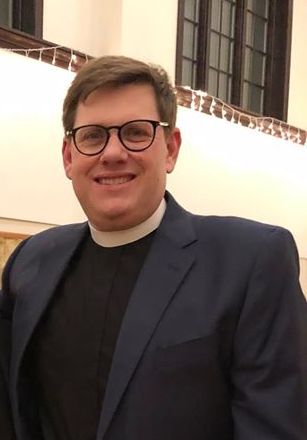 The Reverend Brian G. Rallison
Rector
Phone
(267) 432-4224
(For pastoral emergencies only)
The Wardens and Vestries of the Episcopal Church of  Grace Church and the Incarnation in Philadelphia were delighted to announce the calling of the Reverend Brian Gary Rallison, M.Div., as their Rector.  Father Brian's first day in this ministry of Grace Episcopal Church and the Incarnation began on August 1, 2019.
Father Brian came from the Episcopal Diocese of Utah.  Brian graduated with his Master in Divinity from the  Church Divinity School in the Pacific in Berkeley, California. He has a Bachelor of Science in Human Development and Family Studies with an emphasis in Ethnic Minority Studies and Anger Reduction and Forgiveness from the  University of Utah in Salt Lake City, Utah.  
Brian has also studied extensively in the disciplines of corporate business, credit, and finance.  Before attending seminary, Brian was the Chief Administrate Officer and Vice President of a nationwide mortgage banking company that is headquartered in Salt Lake City, Utah.
Father Brian was ordained to the diaconate (transitional) on the Feast of the Presentation of the Lord Jesus Christ in the Temple, February 2, 2019, and God willing and God's people consenting, Father Brian was ordained to the Holy Order of Priests on the Commemoration of Thecla, apostle, and proto-martyr among woman; Monday, September 23, 2019, at Holy Innocents St. Paul's Episcopal Church in Tacony, Philadelphia, PA.  Brian's education, formation, professional, family, and life experiences are assisting, adding, benefiting, developing, and expanding the ministries of Grace Episcopal Church and the Incarnation.  Father Brian is committed to supporting all of us to live into the covenants we made at our baptisms. 
Father Brian is a concerned pastor.  He is dedicated to the Christian formation of persons of all ages.  His ministry is focused on the sacraments of the Church.  Last but not least, he is a fun, powerful, and engaging preacher. He is dedicated to bringing relevant messages to the people of the Port Richmond, Bridesburg, and Tacony, neighborhoods of Philadelphia.  Brian is a person who loves to hear stories of how God is moving in people's lives.  Father Brian is passionate about helping people come to a deeper understanding of God's love for all individuals.  With Father Brian, our ministries are promoting God's dreams of a loving, liberating, and life-giving world!
In his personal life, Brian is the proud father of three adult sons.  He is also the delighted grandfather of his first granddaughter.  Brian enjoys traveling, movies, entertaining, cooking, gardening, an ice-cold beer, and a glass of wine.  He is enjoying getting to know the greater Philadelphia area and all that it has to offer.